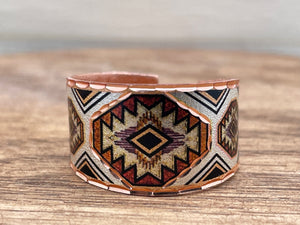 This beautiful Apache Ring is hand-painted on stain-resistant copper. 
Each ring is coated with a clear lacquer finish to protect against rust and tarnish. 
Copper has been used as an ancient remedy for relieving joint pain associated with Arthritis. 
Rings are adjustable and will fit most sizes.
Our products are individually handmade. Because we do not mass produce, there may be minimal design variations. We will always do our best to make sure you are completely satisfied with your order. If there are any issues with the item you receive, we will try our best to custom-make a replacement or issue a full refund.