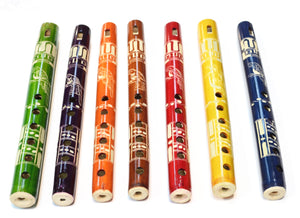 Wooden Flute
The Native American flute is considered to be among the oldest known musical instruments in the world. 
Archaeologists have uncovered some flutes, made of bone, dating back thousands of years! 
Lakota Legend of the First Flute
Long ago, there was a young boy interested in a beautiful girl. He tried and tried to get her attention but she never seemed to notice him. 
One day, when the boy was sitting under a tree, a woodpecker began to peck holes along the length of a hollow limb. When the limb broke from the tree, the boy picked it up and gently blew into the opening. 
To his surprise, he began to hear beautiful music coming from the instrument.
The girl, walking by, heard the sound and came by to see the boy. She fell in love with him and the beautiful melodies he played.
Our products are individually handmade. Because we do not mass produce, there may be minimal design variations. We will always do our best to make sure you are completely satisfied with your order. If there are any issues with the item you receive, we will try our best to custom-make a replacement or issue a full refund.